IOT&INDUSTRY 4.0
Line-less mobile Assembly Systems (LMAS) address the partially automated and ultra-flexible assembly of large products and are based on three fundamental principles:
Clean floor approach
Mobilization of all assembly relevant resources within the factory
Dynamic planning & control
LMAS are assembly systems that allow continuous adaptation and optimization of production through individual job routes based on the completely free allocation of orders, resources, time, and workplace within the factory.
Components of the Demonstrator
The demonstrator comprises the automated assembly of cross-members to a truck frame. Truck frame assembly requires a high degree of flexibility in both the organizational and technological domains. The demonstrator comprises spatio-temporal stations including:
Stationary robots for part handling
Autonomous mobile manipulators (AMM) with cobots for screwing
Autonomous mobile robots (AMR) as the transportation system for the truck frame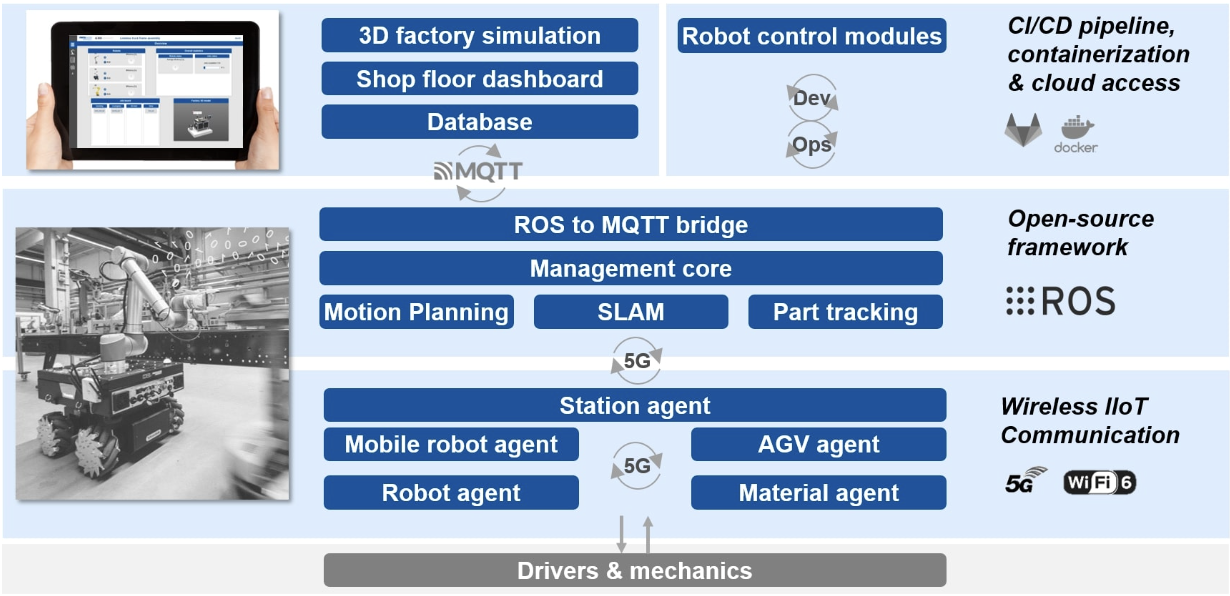 Process
Stationary robots pick up parts from part delivery AMRs and position them in the truck-frame geometry, using vision-based localization algorithms. Heavy parts are picked and placed by cooperating stationary robots. AMMs equipped with wireless tightening tools from Atlas Copco assemble the components. The truck frames move dynamically from one station to another using AMR.
Software Design
The software design and shop floor control architecture rely on the Robot Operating System (ROS). 5G, WiFi6, and Ethernet are combined to enable context-aware real-time communication between stationary and mobile entities. ROS is also used to implement a management core for planning and scheduling: Stations are dynamically configured and formed, such that necessary AMM and equipment are pulled to the respective station. A continuous integration and development (CI/CD) pattern and toolchain from software engineering in conjunction with the advanced communication capabilities enables the decentralized execution of relevant tasks while maintaining software-based synchronization at the plant level.A communication bridge to a MQTT broker facilitates the interaction with superordinate planning and control systems (e.g. ERP). Exemplary, an integration of PTC ThingWorx is leveraged to provide bi-directional interaction between user and shop floor data and displaying the current system status. An additional, virtual 3D representation of the shop floor is provided through elisa 3DVisualizr and further supports human involvement.